This house is located in the surroundings of Sondrio on the Orobic Alps, Italy, at about 1000 meters of altitude..
The client requests were to transform an existing ruin, realized in bricks of concrete, into a residence, that had the most solar radiation and lighting in the livingroom and, at the same time, a view toward the bottom of the valley.
After a careful analysis of the context, of the possibilities in terms of exposure, of the study of the sunlight and the study of technologies and of the values of the mountain architecture, the project became a reinterpretation, in a modern key, of the construction techniques and materials used in the past.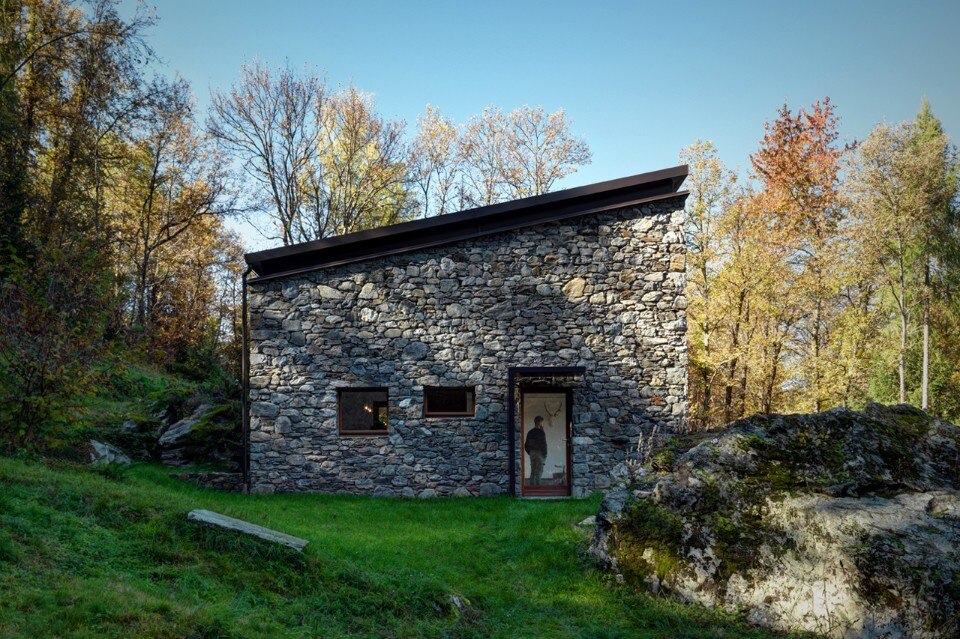 From a formal point of view the house refers to the rural houses: the only sloping roof, completely coated by stone, with no eaves.
First the project took in consideration the insolation and lighting because the Orobic Alpes are poorly exposed to irradiation. First of all the wall exposed to the north, has been raised up inserting four openings – one for each room on the first floor and two on the ground floor with a wonderful view on the Retic side of the Alps and, at the same time, achieving a double height on the kitchenette and dining area, illuminated from above through a skylight, flush covering. As a result the space is lighted in a natural way, ensuring energy saving and satisfying all the client's requests.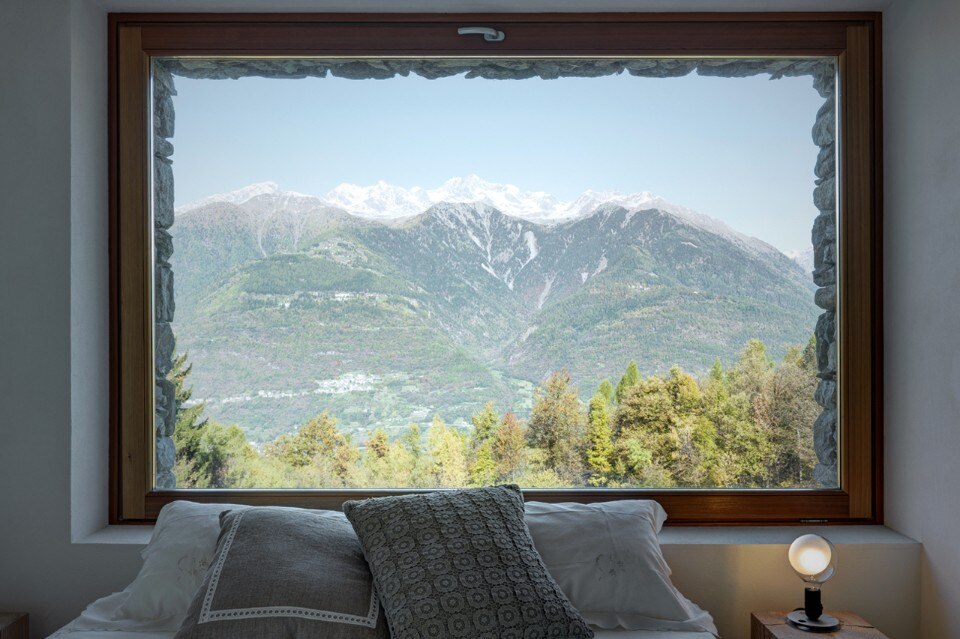 The structure is in reinforced concrete and concrete bricks, with suitable thermal insulation, in order to obtain a good living comfort, and coated with local stone. The cover consists of lamellar wood beams wood painted in white color. Doors and windows are in lamellar larch brushed and not treated with double glazing burglar proof. The materials choice – wood and concrete – and their combination enlights their strong intrinsic materiality.

The majority of the interior furniture is custom made and realized by local artisans with materials referred to structural ones: larch, concrete and iron.

Alfredo Vanotti - EV+A Lab Atelier d'architettura & Interior Design, Casa Vi
Alfredo Vanotti - EV+A Lab Atelier d'architettura & Interior Design, Casa Vi
Alfredo Vanotti - EV+A Lab Atelier d'architettura & Interior Design, Casa Vi
Alfredo Vanotti - EV+A Lab Atelier d'architettura & Interior Design, Casa Vi
Alfredo Vanotti - EV+A Lab Atelier d'architettura & Interior Design, Casa Vi
Alfredo Vanotti - EV+A Lab Atelier d'architettura & Interior Design, Casa Vi
Alfredo Vanotti - EV+A Lab Atelier d'architettura & Interior Design, Casa Vi
Alfredo Vanotti - EV+A Lab Atelier d'architettura & Interior Design, Casa Vi
01 Indice fogli _ Layout
Alfredo Vanotti - EV+A Lab Atelier d'architettura & Interior Design, Casa Vi, ground floor plan
01 Indice fogli _ Layout
Alfredo Vanotti - EV+A Lab Atelier d'architettura & Interior Design, Casa Vi, first floor plan

Casa Vi, Alpi Orobie, Italy
Program: single-family house
Architect: Alfredo Vanotti - EV+A Lab Atelier d'architettura & Interior Design
Architect in charge: Alfredo Vanotti
Area: 75 sqm
Completion: 2015