The property occupies an art nouveau building of Barcelona's Eixample district and was fully renovated by CaSA and Margherita Serboli to become the holiday apartment for an Italian family.
The original layout wasted considerable space and was poorly orientated. Its longitudinal distribution, forced by the transversal bearing walls, resulted in small spaces separated by a long corridor. The client's wish was to have three double bedrooms and a home that would highlight and underline the early 1900 details of the building, through a design with a contemporary language.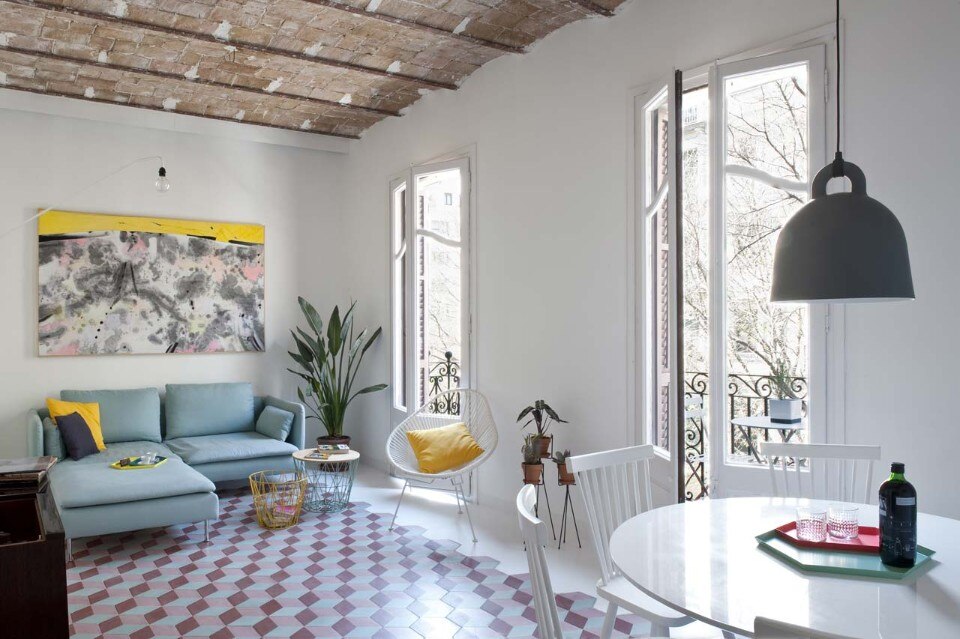 The three bearing walls, that previously compressed the fractured layout, have been transformed into transversal axes around which the space is organized into different areas.
The client's wish to retrieve the art nouveau essence has led the project to the restoration of original features while adding new components that speak the same language without betraying their own contemporaneity. For this purpose some of the original features have been rescued, like the original windows woodwork, or the Catalan vaults, previously hidden behind a false ceiling.
For the same reason it was decided to reinterpret one of the most characteristic elements of art nouveau apartments in Barcelona: the floors. The architects designed an hydraulic tile – a typical element of this kind of early twentieth century dwelling – using the current hexagonal format and contemporary colours. A Mediterranean-inspired atmosphere dominates the entire floor with a combination of colours partly suggested by original features – such as the amaranth wooden window frames of the facade – and dominated by white and pastel tones. Large paintings by Piero Serboli dominate the living space and the suite, offering a Mediterranean and colourful imagery.


Tyche Apartment, Barcelona, Spain
Program: apartment
Architects: CaSA (Andrea Serboli, Matteo Colombo) and Margherita Serboli
Contractor: Alsamasa
Area: 94 sqm
Completion: 2015