The map created by Hyperakt and Ekene Ijeoma visualizes the size of refugee diasporas from dozens of unstable or repressive nations each year.
To give a deeper understanding of the trends in refugee statistics, The Refugee Project also includes brief histories of the major refugee crises of each year, organized by country. In the year 1975, for example, the map offers the headlines "Vietnam: Saigon Falls to Communist Forces" and "Western Sahara: Morocco Invades Spanish Sahara; Spain Withdraws". Below each headline is a brief history of that country's troubles, and the circumstances that prompted refugees to leave.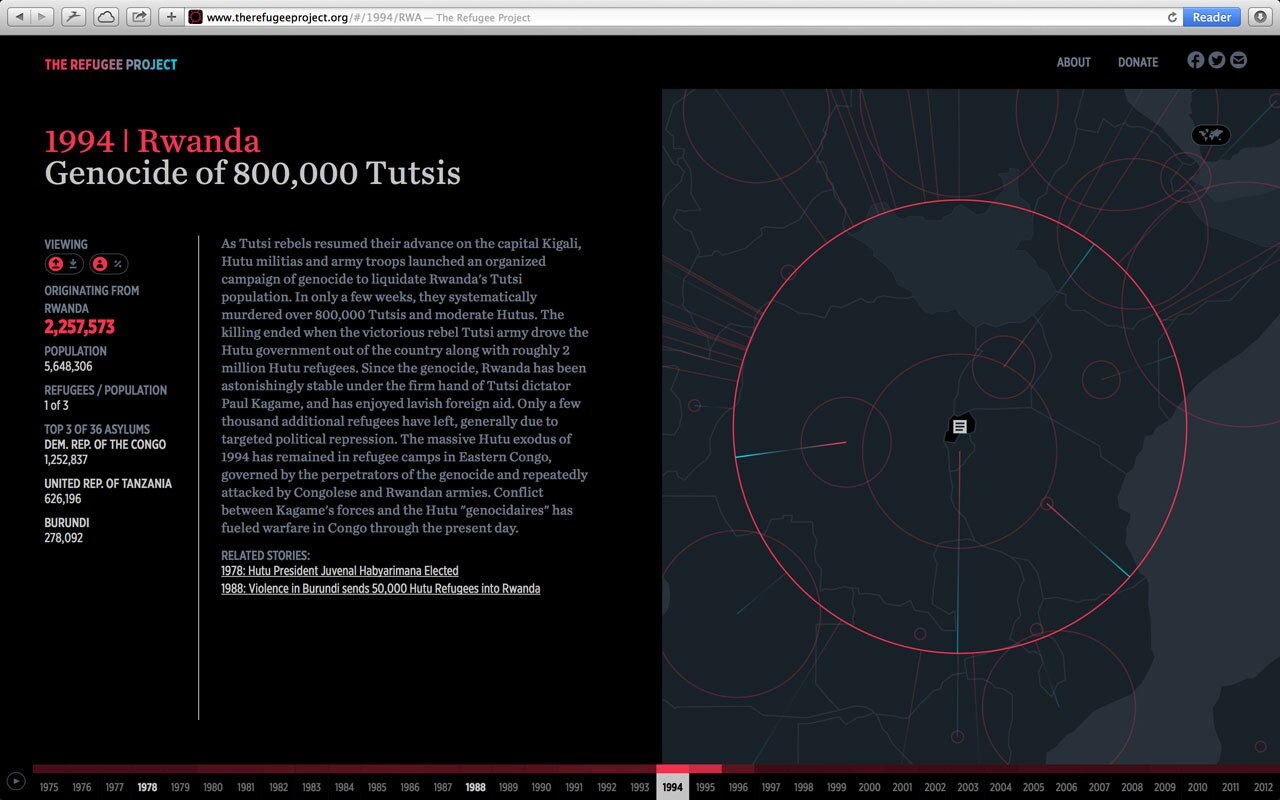 Sometimes the headlines appear in the same year as a noticeable spike in refugee outflow from a given country, but more often they describe major events in a country's history that might cause a large number of refugees to flee, or return, years later. The number of refugees from Afghanistan exploded to almost four million in 1981, for instance, but The Refugee Project notes the most proximal cause with the headline from 1979: Afghanistan: Soviet Invasion; start of 10-year Ruso-Afghan War.
The stories included in The Refugee Project deal mostly with the background history that contributed to refugee diasporas. The stories describe the fates of refugees after they leave their homes, and how their plights have influenced world events. The complex politics of Rwanda and Burundi have been shaped in large part by the huge numbers of refugees who have been forced from one to the other by ethnic violence since the 1960s. The massive, devastating war in the Democratic Republic of the Congo began when a Tutsi Rwandan army invaded in pursuit of the Hutu refugees who had fled there en masse in 1994. By contrast, the peaceful resolution of the civil war in Mozambique brought about an historic repatriation of refugees who helped to rebuild their home country.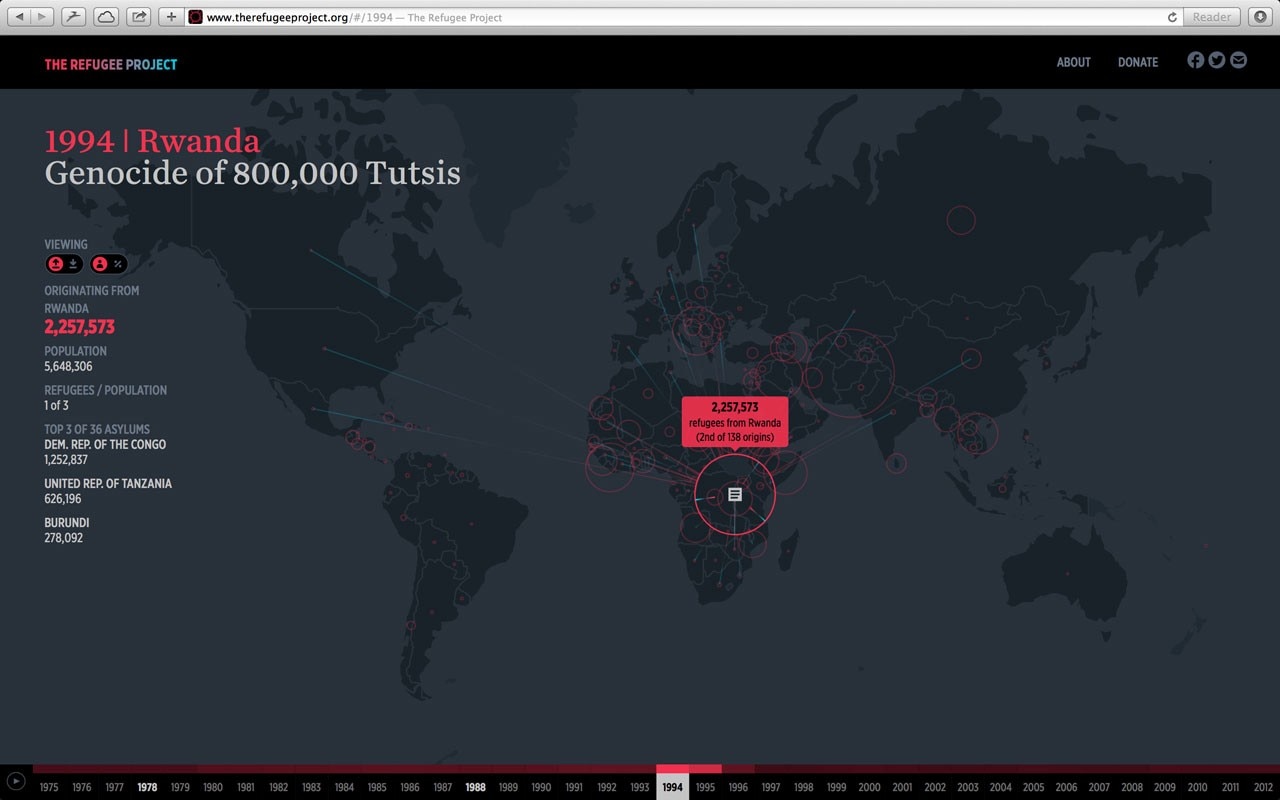 The needs of refugees cannot be solved in isolation. No single refugee comes from a vacuum. They leave their homes out of fear and desperation, and their plights cannot be ameliorated without first understanding the circumstances of their flight.
The Refugee Project aims to enable new insights into the problem of refugees worldwide. By shedding light on these global patterns, the creators of The Refugee Project hope to empower aid workers, governments, academics and citizens to seek compassionate solutions for some of the most vulnerable populations on Earth.
The Refugee Project is a collaboration between Hyperakt and Ekene Ijeoma, two design studios based in Brooklyn, NY that use data visualization and design to shed light on the most important social issues of our time. Historical research and writing for The Refugee Project was conducted by Ted Cava.
The project was on view on the Mapmaker Manifesto site during 2014 Istanbul Design Biennial.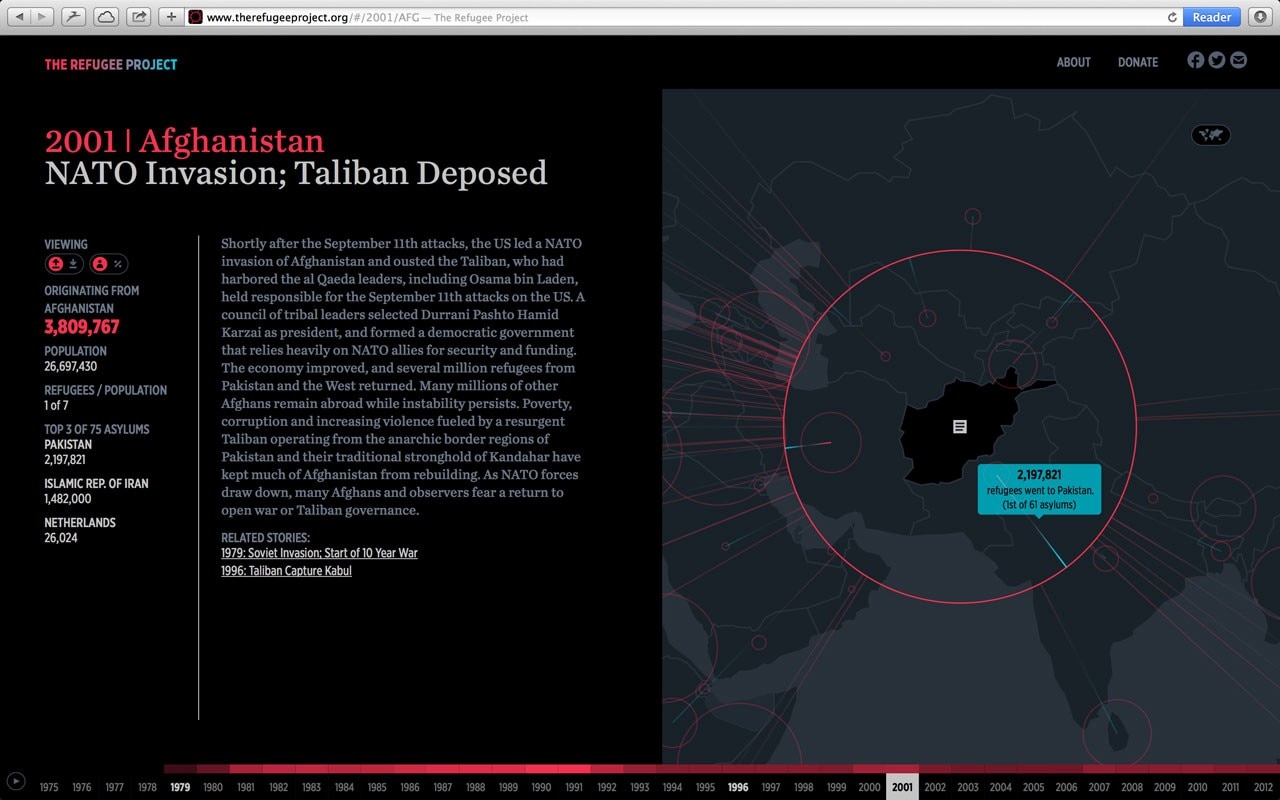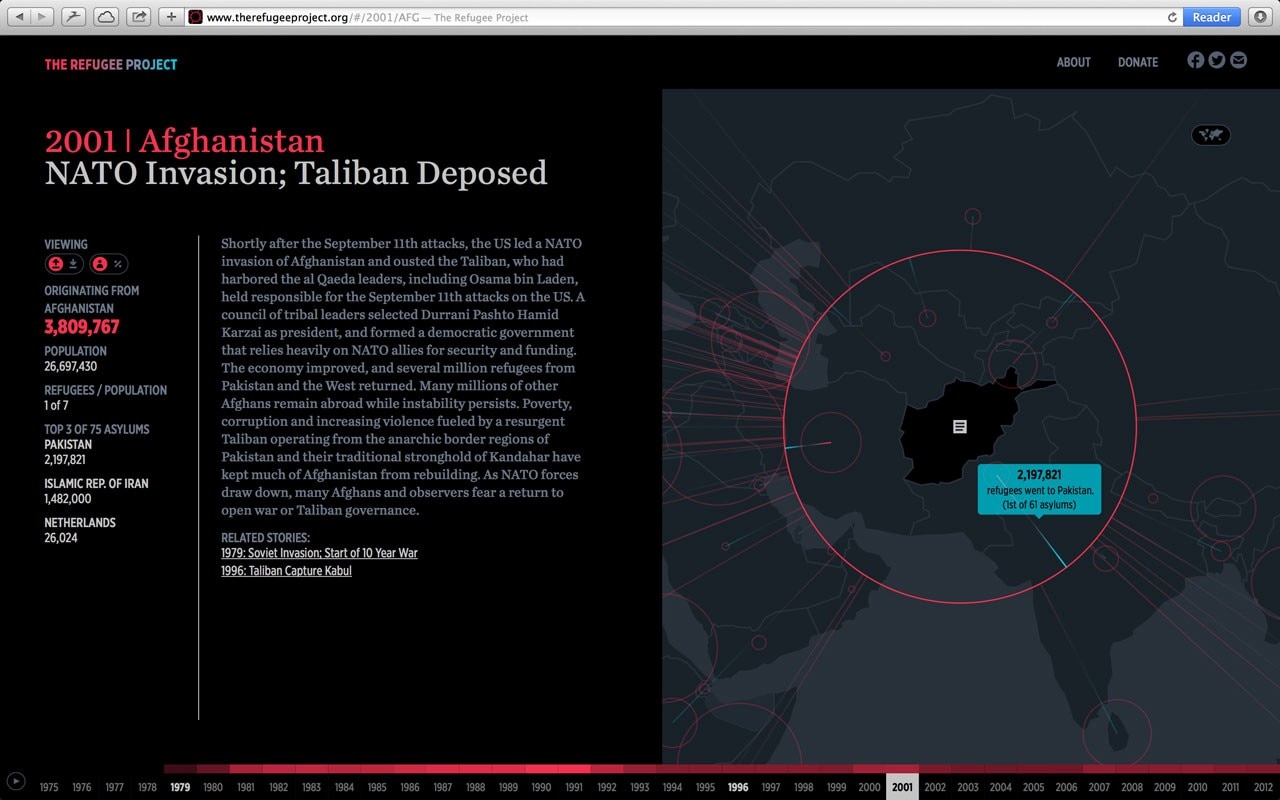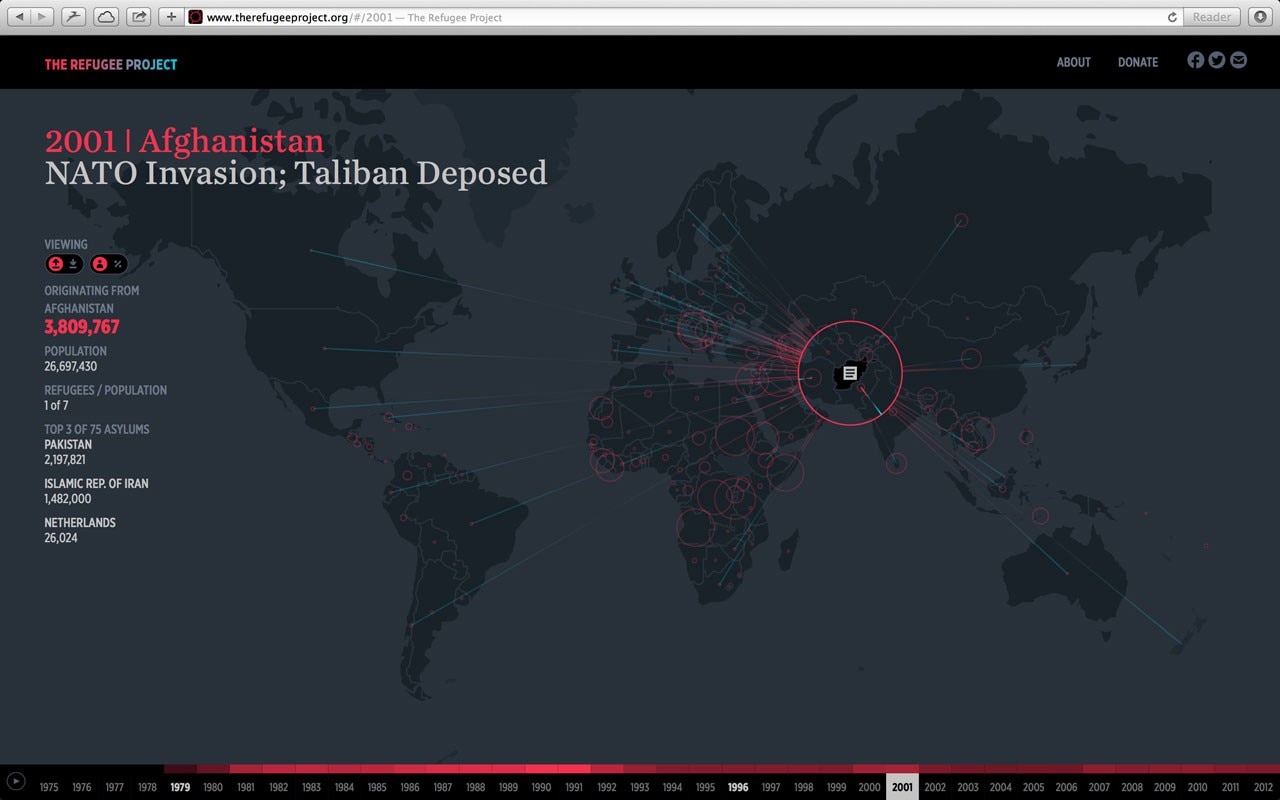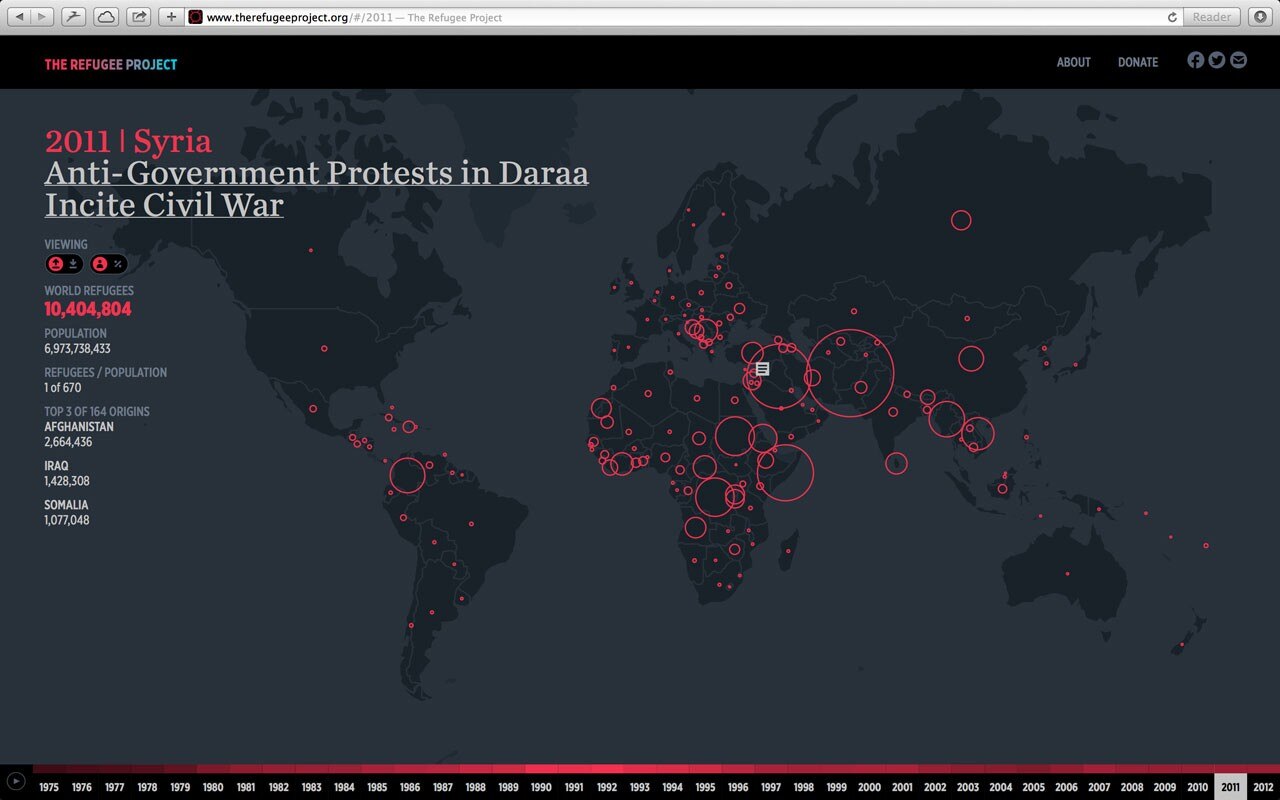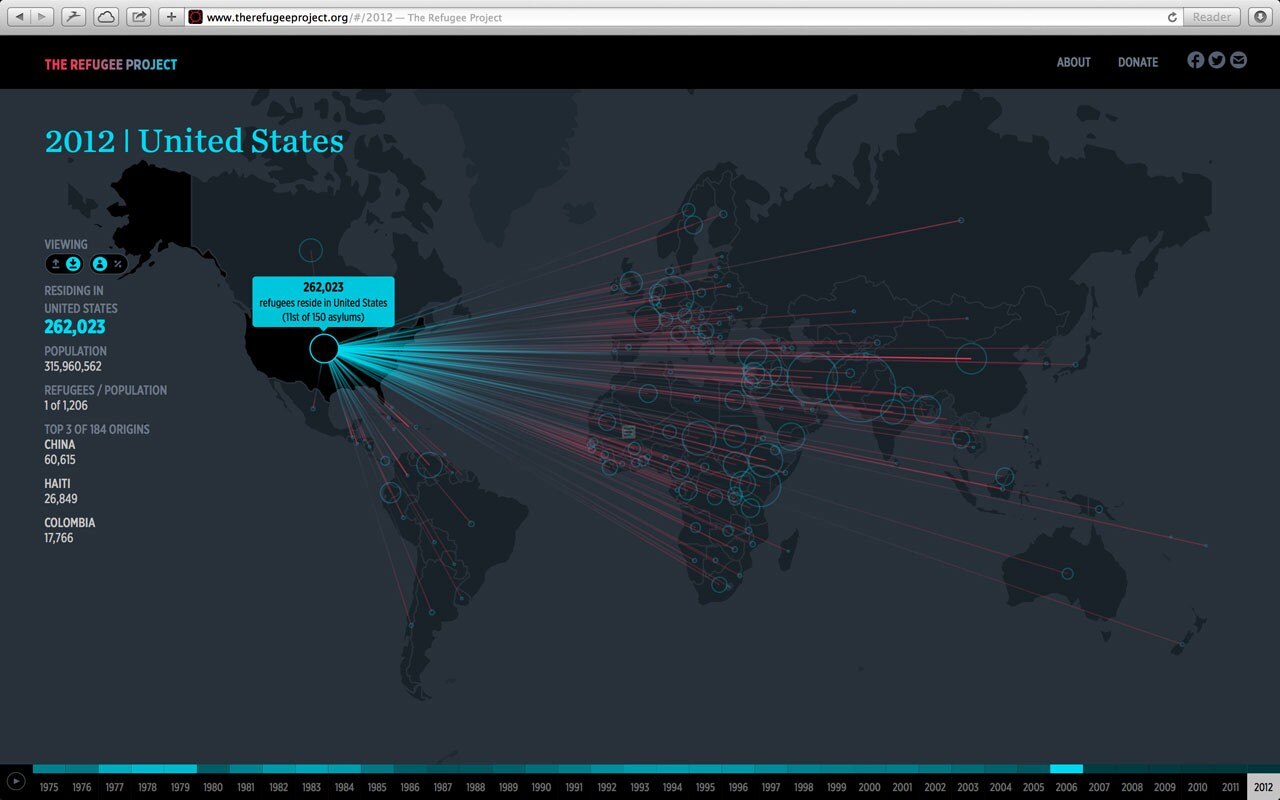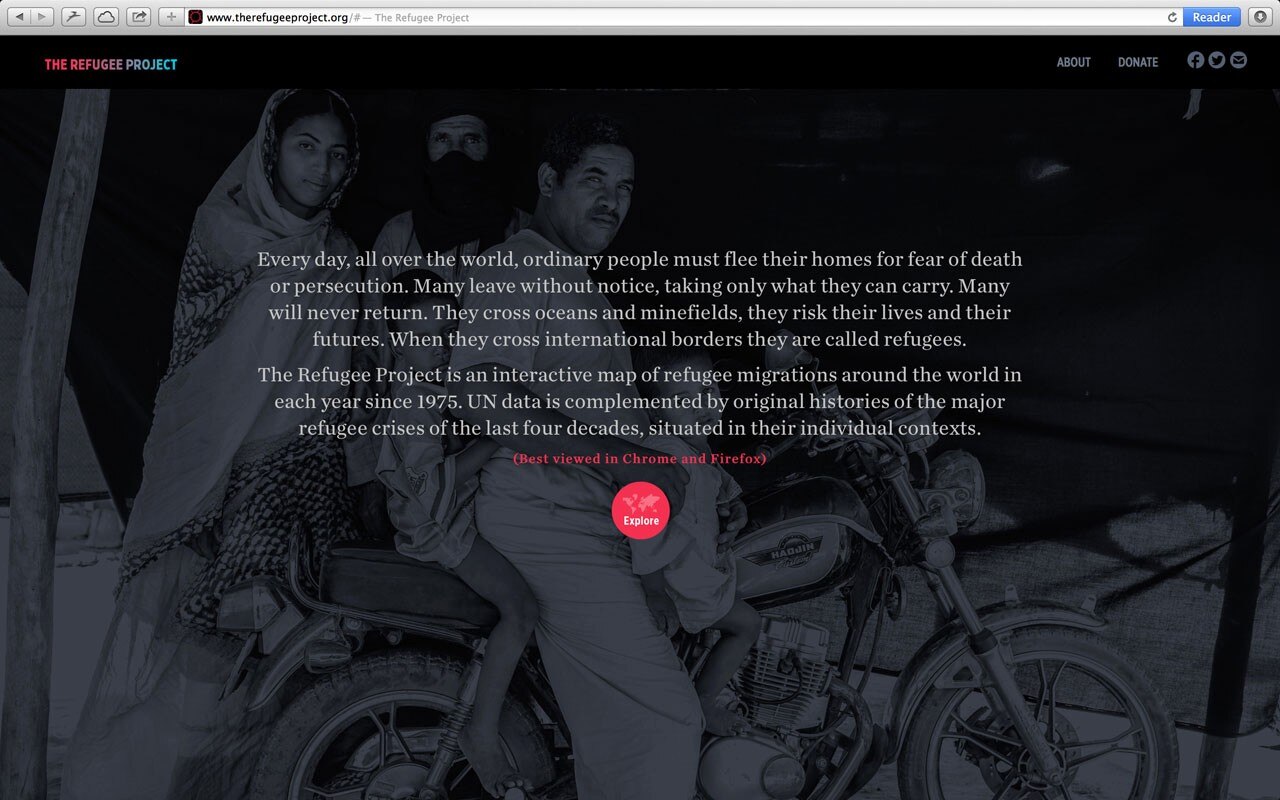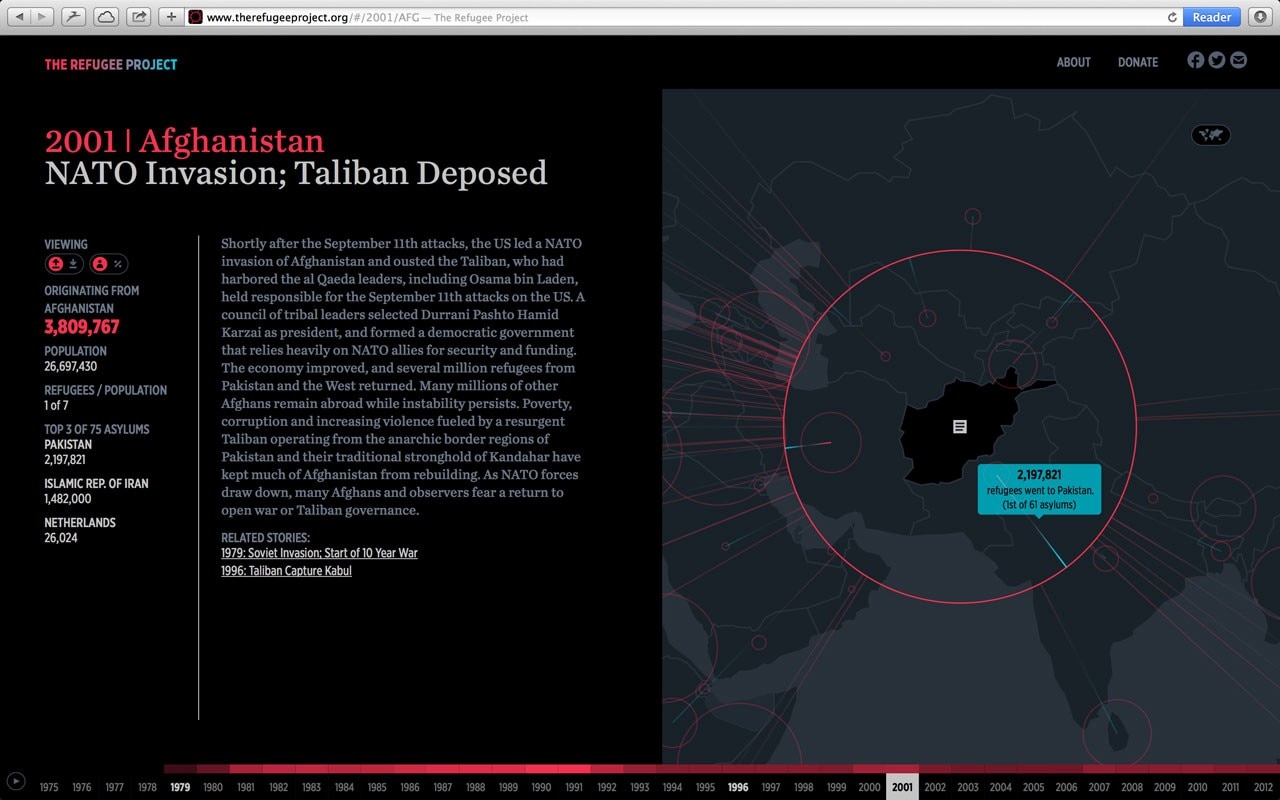 Hyperakt and Ekene Ijeoma, The Refugee Project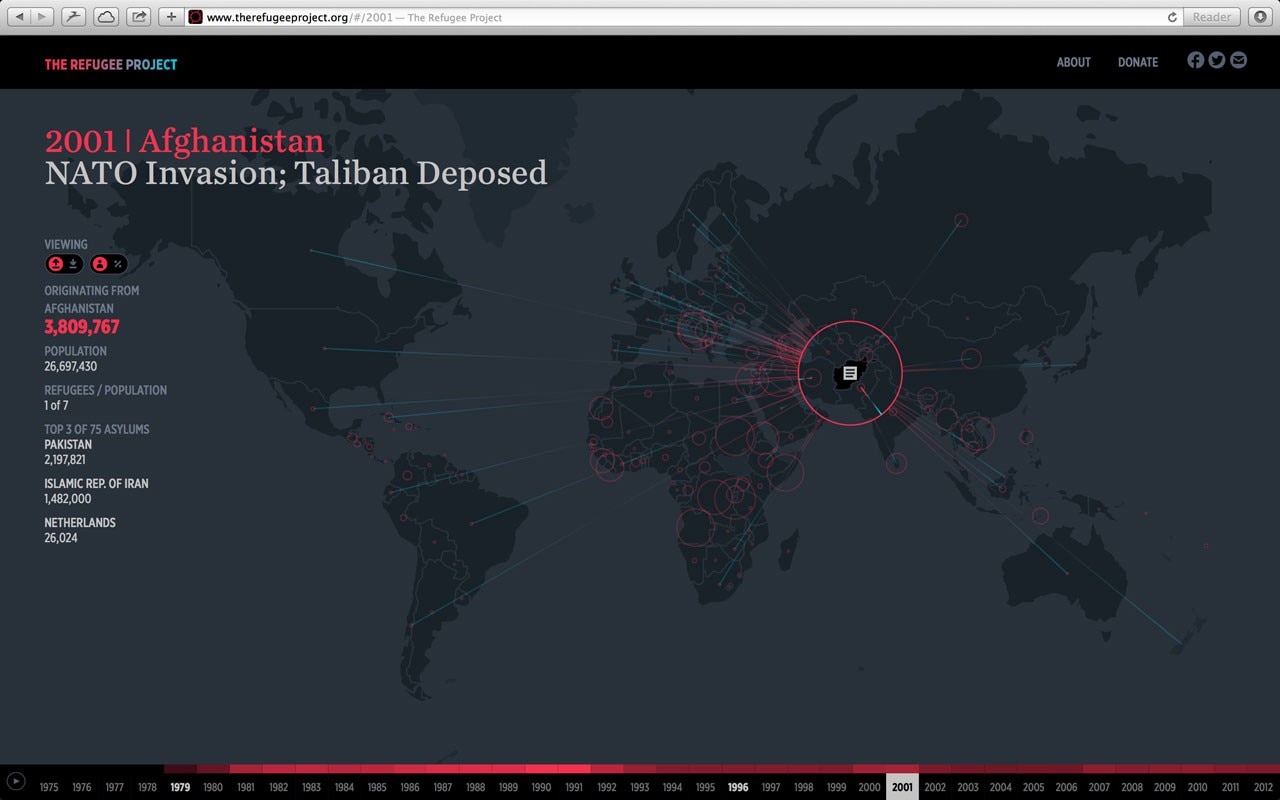 Hyperakt and Ekene Ijeoma, The Refugee Project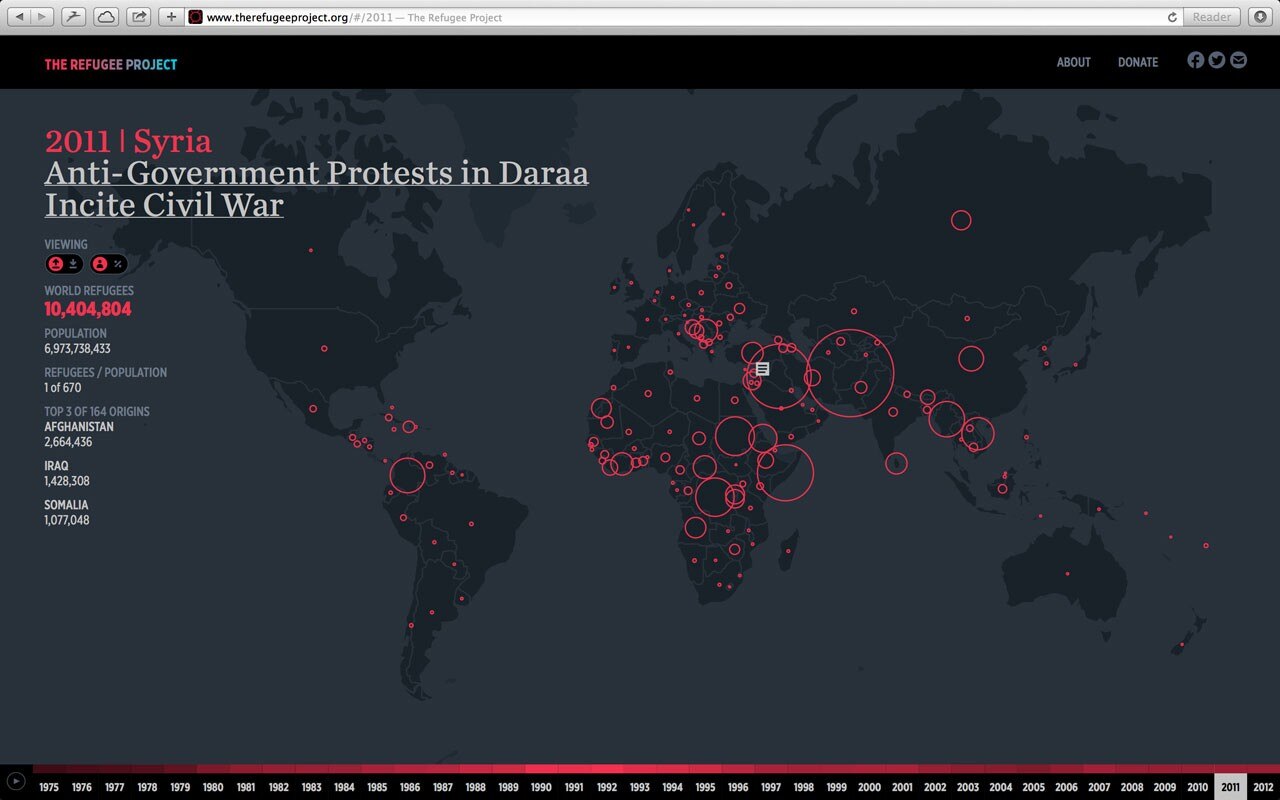 Hyperakt and Ekene Ijeoma, The Refugee Project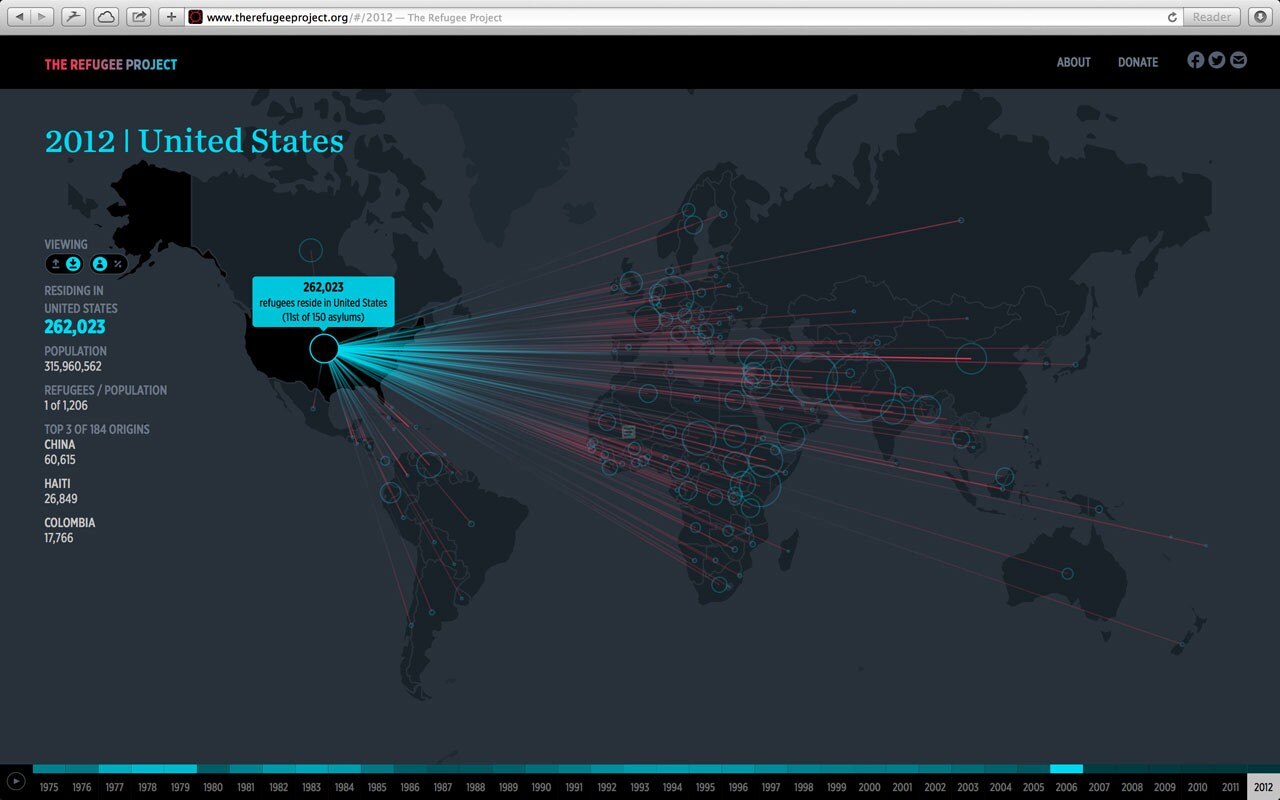 Hyperakt and Ekene Ijeoma, The Refugee Project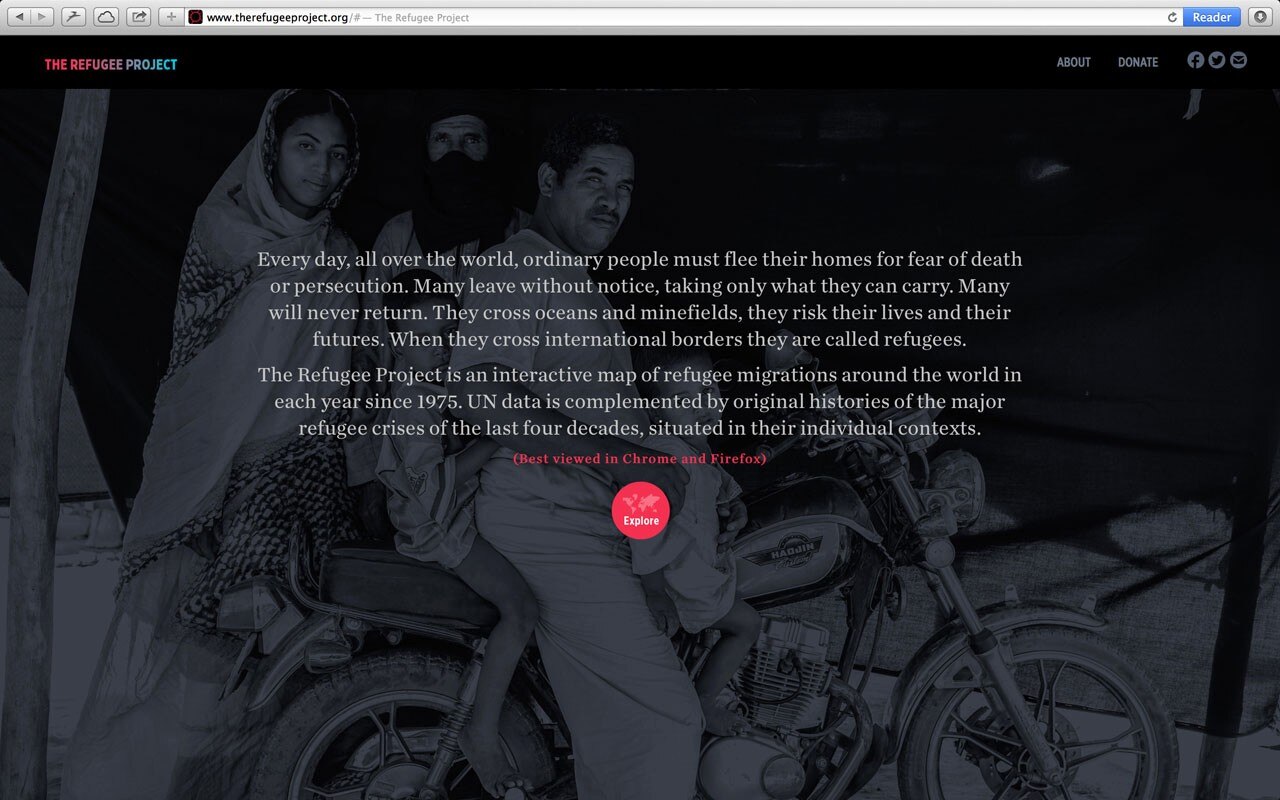 Hyperakt and Ekene Ijeoma, The Refugee Project

The Refugee Project
Project: Hyperakt and Ekene Ijeoma
Historical research and writing: Ted Cava