Scottish studio biomorphis has proposed a new "green bridge" for the centre of Edinburgh, in an attempt to kickstart the regeneration of the area. Leith Walk, as it is called, is one of the majour thoroughfares of the city, and currently acts as a major divider in the city. Biomorphis proposes a bridge which would link the East cycle paths to the West of the city, redirecting the ever-growing flows of bikes and pedestrians and also becoming a landmark for the community.

The concept is to bring a lightweight structure with low embodied energy. Construction materials based on plant products represent the way forward in terms of diminishing our dependence on hydrocarbons. Locally and bio-sourced timber provide an adequate ecological solution. The frame has been developed as an optimized system of simple straight timber boards suspended from two main steel cables anchored to the remains of the old structure. All boards would have an identical standard width for a purpose: the whole frame should be sourced from local artisans and locally assembled.

The bridge's design is generated from an algorithm which responds to three guiding principles: suspension, repetition and alignment. The script provides an ocean of choices which have to be carefully selected to address the specific issues.

The elevated garden would be a park for all, made of communal gardens, which will encourage biodiversity by creating a wildlife corridor above the city and offer a natural animal habitat, with a careful selection of plants requiring very little watering from collected rainwater.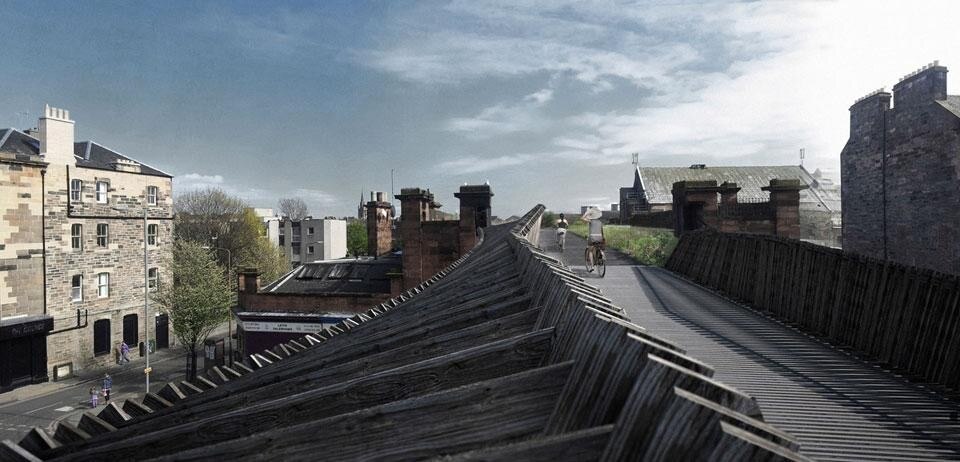 Biomorphis: Leith Walk
Project Location: Leith / Edinburgh , United-Kingdom
Design & engineering: biomorphis
Project Stage: Public consultation - Proposal
Date: June 2012