On the occasion of Floriade 2012, Estonian studio Kuu Architects has designed a wooden pavilion reinterpreting the Koda archetype, modernized both in form and function.

One of the oldest Estonian words, Koda originally means "place for living". Linguistically, it is very close to the words kodu ("home") and koht ("place"), signifying the first built archetype in Estonia — the chamber — dating back to the 3rd millennium b.C., when the first timber structure was built. Through traditions and customs, this dwelling unit with archaic and simple architecture laid the foundation for a complex ethos that could be called the soul of the Estonian identity.

The archetypal koda in its original form is still in use, even though its basic purpose has changed. Over time, completely new types of koda have appeared: meeting places, places of music, blacksmithing, worship, all of which shows how deep the koda's roots are in the Estonian culture.

This pavilion aims to play with the fact that the koda is a unit that can be given very many different functions and grouped to create larger modular combinations. The pavilion is a timber frame structure composed of six modules, all finished with different high-quality materials and in different styles. Interior finishing in birch plywood gives the house a warm feeling. All interior elements represent Estonian design: the tables are by Kristel Jakobson, chairs by Aap Piho, and lamps by Margus Triibmann.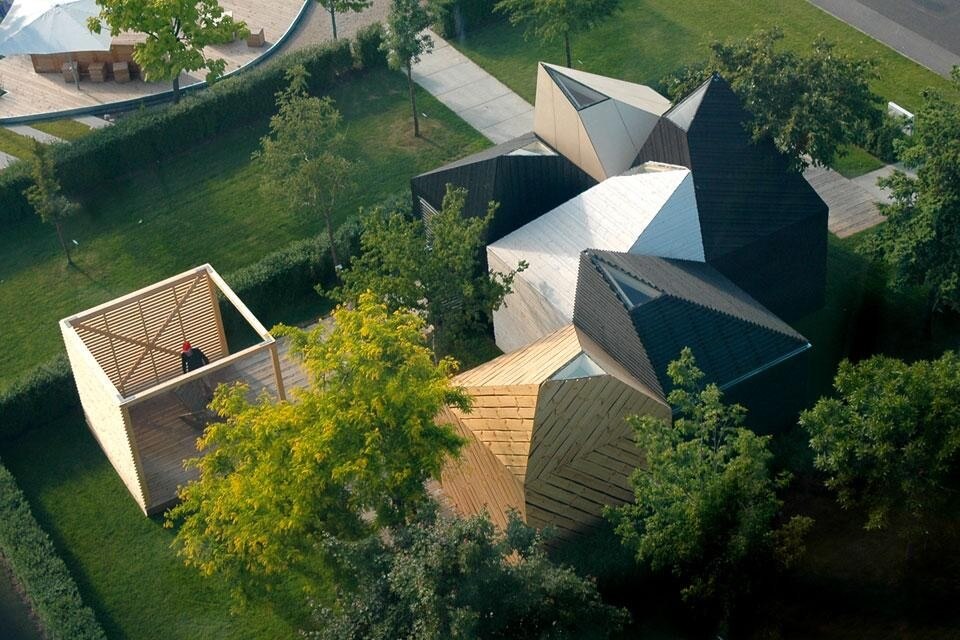 Kuu Architects: Koda Estonian Pavilion for Floriade 2012
Architects: Kuu Architects
Team: Joel Kopli, Koit Ojaliiv
Area: 73.5 sqm
Client: Enterprice Estonia, Estonian Woodhouse Association
Completion: 2012