Building in the central desert of the Northern Territory, Australia, home to several indigenous communities, presents a series of challenges. For many years, it was normal to import components for both civic buildings and individual housing that are standard in the Australian east coast cities and construct them on site, without consultation. But the environment, lifestyle and culture of the central desert indigenous communities are completely diverse. These groups prioritised complicated relationships with landscape that incorporated networks of cultural relations over building permanent structures. To build a cottage garden in a desert, the east coast house and British design traditions are not appropriate. To impose these building styles without consultation entails compliance: it means, not just the British way of building, but its lifestyle too. And so, it is doomed to fail.

European building traditions are introduced alongside their cultural systems and law, such as the division of life into a public and private sphere, which is protected by a home. Regardless of whether this is desirable, in many ways it isn't practical, in a climate where temperatures reach more than 40 degrees on a daily basis. Many buildings simply cannot provide for the health needs of their occupants: the concrete heats up, the components break down. Often the buildings are taken apart. In some cases, maybe a wall is removed, the mattresses and sofas dragged outside, in a form of deconstruction that may look shocking if you are used to keeping those areas of your house private. For ABoriginal communities, the central desert offers a lot of space, and privacy can be protected with distance. A building's original function can be changed or re-defined according to need: to keep away the harsh sun and cold, to protect individual property and keep the scorpions at bay.

So building can be integrated into central desert life, but the process is only as useful as the number of needs it fulfills, which is where the consultation process becomes vital. Alice Springs architect Brendan J. Meney has been working on design projects with indigenous Australians for over 15 years. Domus spoke to Meney to find out more about methods, outcomes and aesthetics in his work with indigenous people on public architecture projects, and how this adaptation to both landscape and culture may contribute to the formation of an elusive "Australian style" of architecture, which is still coming into being.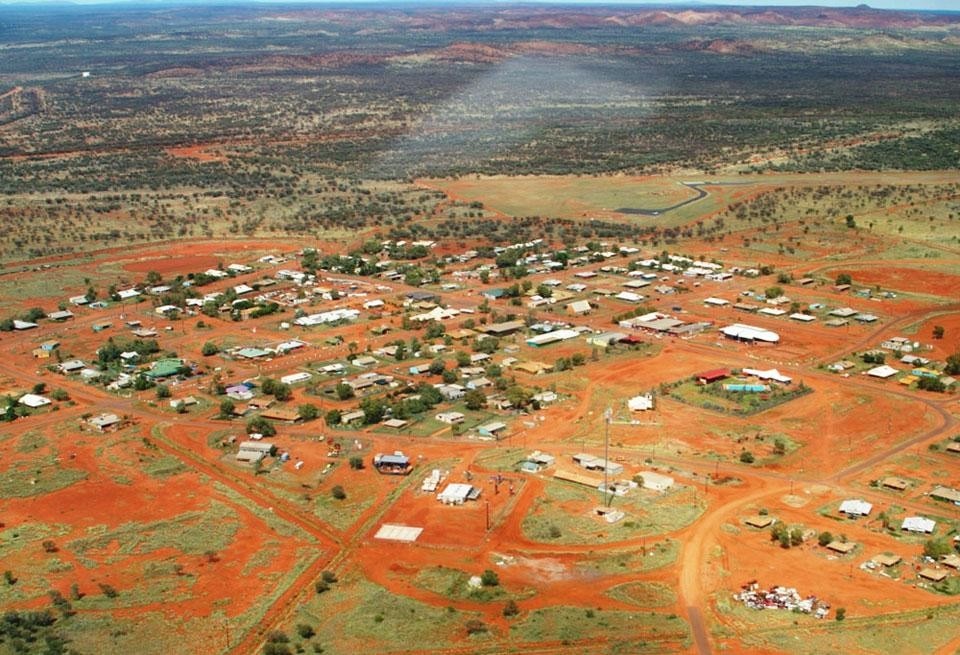 Philippa Nicole Barr: You have been working with remote indigenous communities for many years. What defines a successful project?
Brendan Meney: Partnerships. You have to engage Aboriginal people and promote a teamwork environment which produces a genuine response. Aboriginal people will often say "yes" just to be polite, so if you don't work in an appropriate manner, they don't trust you enough to speak their mind.
For example, for the project to build the Yuendumu Swimming Pool, our office produced a concept design from an intensive consultation process with the community members where their input allowed us to facilitate the designs based on strong dialogue. We took the project to the detailed concept design stage with 3D images and plans and we were involved in a review meeting with the architect who took the job to the construction stage. The plan we developed in the community workshops tells a lot of the story of this pool.

What kind of methods did you use ?
The community was supplying a one third of the funds to build the pool. The Northern Territory Government proceeded to impose a standard design pool from the top end but the community resisted this and insisted on a detailed consultation process facilitated by our office. I had previously worked with the community on a Substance Misuse Centre at Mt Theo, so they requested we facilitate the design process. The Mt Theo program had taken on the task of building and operating this new pool because the council was reluctant. We ran an open community forum to workshop all the ideas and receive input from individuals. The CEO Susie Low arranged for the workshop to be held the same day of the election so everyone was in town from their homelands. Forty people participated enthusiastically for three hours with ideas running backwards and forth the whole time.
What was your approach? Lots of paper on the wall and on the desks engaging people through scribble and conversation, artistic or otherwise. I'm just there as a facilitator, its not my building, so the emphasis is always on assisting the community through the design process. It's that sort of approach. With help from the whitefellas and community elders we ran a very vibrant workshop put together some great local ideas. We discussed demographics and site planning issues, and we went through all the activities around the pool: the non-swimming activities, the opening times, the appropriateness of the pool itself: safety for the kids, access to the pool, culture, gender issues, hygiene and so on.

Can you explain your original sketch for the project? That is related to something that came out of the conversation when we started scribbling the shapes as we designed the structure around the functions and created buildings that embraced the in-between spaces and protected them from the harsh western sun. Then all of a sudden Riley I believe said, "that's a pira pira" – and when I asked they said that's a Warlpiri butterfly. And that's where it went after that. So it's called the butterfly: pira pira.
Unfortunately, the end result became varied from the communities' early aspirations. The constructed building adopted the "wings'" concept and some of the internal planning at the insistence of the client, but many design aspects were changed including the pool design and the outdoor shelters. The fence line now strictly follows the cadastral boundary rather than the concept proposal of placing the fence inside the boundary with landscape outside so the fence disappears into it and loses it's rigid, gaol-like appearance, so often the case with the visuals of security fences. In saying all this though it needs to be pointed out that the community is really happy they have a functioning, practical facility that promotes a healthy lifestyle for the kids. It is just unfortunate that it could have had a stronger, more locally appropriate and dynamic design presence within the urban context that is being redeveloped for the general area.
One of the defining moments for me is when, at the completion, the building is danced open. If it's danced open I feel like I have achieved something, and the architecture has gained some sort of acceptance. It means that people are going to interact with the building
You often find in communities people are taking down walls, boarding up windows, like the house is a deconstructive or experimental process. Do you think Aboriginal people are still trying to work out what kind of house they want?
For architects facilitating remote projects it is about listening and learning, if we are going to assist in that process of change. Which means that continuing to supply remote communities with the same standardised housing in the long term is doomed to failure. Allowing the self-determination process to evolve I believe is the only way Aboriginal people can truly develop their own future.

Is it quite different to the way standard houses are built in Aboriginal communities?
Working with Aboriginal communities in the bush is different to working with urban communities. In town, when residential clients come to me the first thing I do is send them away to write a bit of a story in a journal about the way they live in their own house and how the existing space affects their lifestyle and their actions, about what they do and how they live in that space. I try to get them to clear the clutter out of their head and open up their mind to what they really want. With projects in remote areas we try and achieve similar outcomes but use different methods of communication to establish needs. Then we move forward.
Do you find there is a lot of diversity in what different families want?
Yes. We always went into communities with a clear head as it is too easy to stereotype people. Family's aspirations varied depending on their level of exposure to the European way of living and their past interactions; whether with the Cattle industry or missions or within the urban context of Alice Springs and other towns. We are at the same time mindful that the costs drive the opportunities for diversity in this process. So we often look to a hybrid housing system that is flexible to balance costs against needs. There are a lot of commonalities across this desert region about how people move between communities and how family groups move and interact. I was always of the opinion that if we listened enough we can understand the basics of that, the lifestyle concepts, if you like, and use these drivers to create something that's adaptable and flexible.
What came out of a number of conversations with various communities around that time was the basic living requirements for a family group: a communal space, individual living spaces, a place to cook, and a place to wash yourself and your clothes. Lots of shade and protection, and the ability for those separated spaces to grow and expand as the family comes and goes. You need a communal area here in the centre that is physically separated from private spaces. Traditionally that's what this is about, the central meeting location where people come together. What tends to happen in a lot of remote housing situations where a standard house is delivered is that you get the bedrooms on one side, maybe the bathroom on one side, kitchen or dining room on the other side — and then this central part becomes dark and unvented, and ultimately very unhealthy. There is minimal opportunity to create the appropriate physical separation needed within established traditional family social arrangements, and maintain healthier living environments.
Have you built any houses based on these concepts? Where?
We constructed many. Some more recent examples exist near Ti Tree, at Mungkarta Community and surrounding homelands. All of these buildings are completely different from each other. Prior to that we were working on hybrid ideas but not realizing the full impact of the living environment itself. We started to work with construction systems where we were standardizing the structure, and I was trying to establish training programs to get local Aboriginal construction workers involved. Unfortunately the majority of the projects were short term. Where we were able to get the community involved in the construction they could then build the house underneath, and take their time to be trained. We were also trying to reintroduce mud bricks at the time as well, so they could make the mud bricks, and it didn't matter if construction continued over the summer because they had the protection of shaded area to work under. It was all about keeping people interested and making life a bit more comfortable and trying to develop a building industry at the same time away from town. Rather than take the town to them, we were attempting to use the local resource, take the materials out there and try to develop a local building industry, which could contribute to a more positive future in the remote desert communities.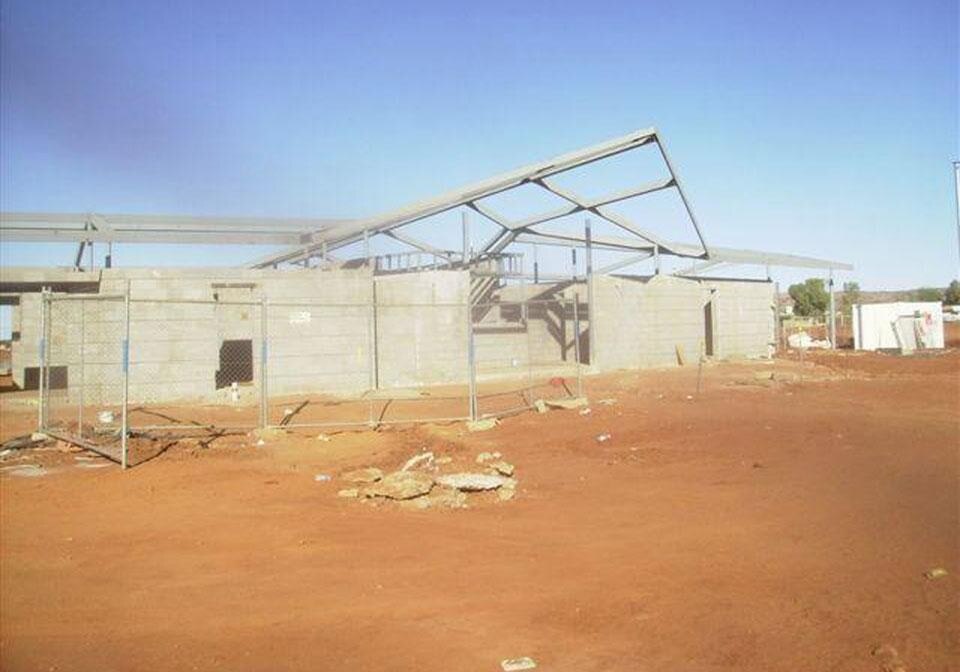 So do you think that your projects are well received by the locals who work on them and have to live with them?
One of the defining moments for me is when, at the completion, the building is danced open. If it's danced open I feel like I have achieved something, and the architecture has gained some sort of acceptance. It means that people are going to interact with the building. We built an adult education centre at Mutijulu, which is the Aboriginal community near Uluru. It's the first building you see when you come into the community, constructed with mud bricks made by community workers and is still in tact within an environment that suffers from much social disfunction. The design and the communities contribution to the build I believe is the key to the level of acceptance and community ownership adopted. It's used now for all sorts of things — even as a courthouse for the visiting magistrate.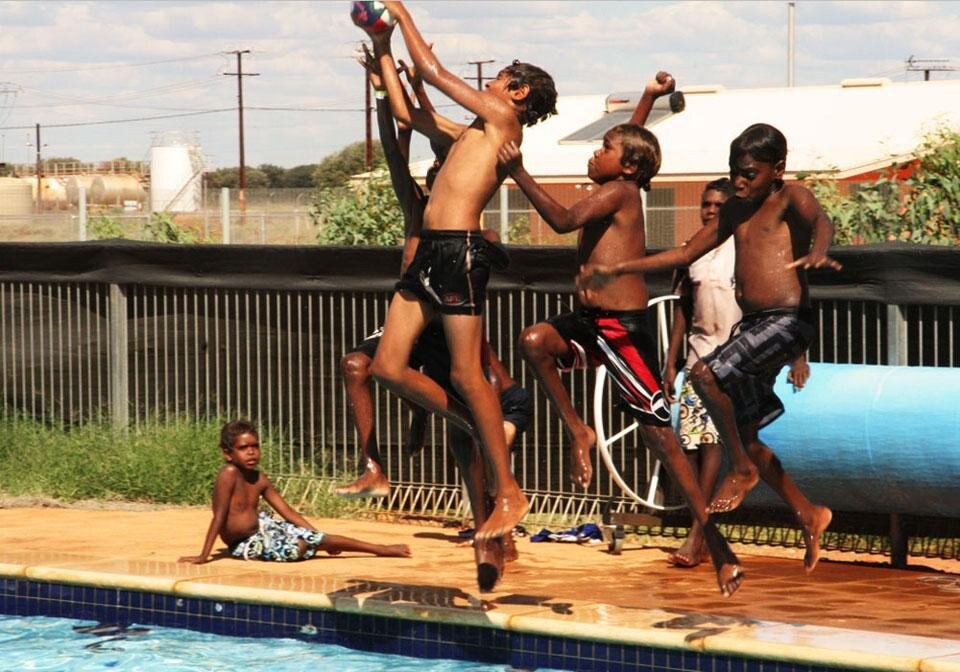 Is there any hope for creating a cross-cultural, consultative design aesthetic here? Do you have any ideas how it would look? No, I couldn't say. What I have are ideas about collaboration to allow it to happen. It's all about picking up on the spiritual needs and portrayals of important visual messages, and about linking to and respecting the land. It's a visual prompt, if you like, its an indicator, it allows people to take notice of the building, its relationship to the land it sits on and the people that use it; its very reason for "being". With these public style buildings in order to facilitate the development, you need to understand people and their real needs. A lot of that only comes from listening and learning yourself — it's a partnership thing. I have a view that this whole process of producing meaningful architecture is more about process and not about the final product.