Free spaces from superfetations and showcase building materials, use an austere and somewhat crude vocabulary, optimise the few spaces available. Doing more with less. This contemporary trend has motivations that are simultaneously based on the material, constructional and economic aspects of a project.
The approach has been popularised in Europe by studios such as Brandlhuber+Emde, Burlon in Berlin, H Arquitectes in Barcelona and Lacaton & Vassal in France (not surprisingly, the latest winners of the Pritzker Prize). It is much more difficult to find this attitude in Milan, a city where the cultural hegemony of the "exquisite bourgeoisie" also determines the dominant styles in interior design.
A fascinating portrait of Milanese domestic environments is provided by writer Federico Sargentone with a recent essay in Pin-Up Magazine: "the semantics around the bourgeoise ideal comes as no surprise with connotations of elegance, luxury, grandiosity, and, again, class (as in chic) reinforcing the historicized belief of the upper-middle class as the only arbiter of taste, the gatekeeper of dignity, the ultimate ruling social group."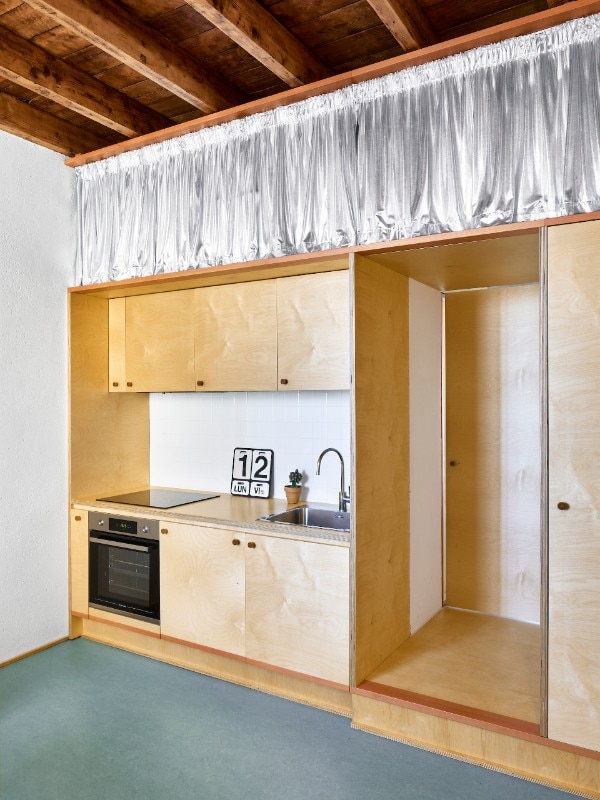 In such a context, Enrico Forestieri's work is a true anomaly. With projects such as Orsonero Coffee, Penthouse for a composer (designed together with Matteo Pace) and As time goes by, the architect has developed a method of designing interiors that focuses on enhancing the material aspects of the context, the project and its inhabitants. The latest project in this vein is Multiply, the renovation of a small flat in a traditional early 20th century railing house. With a few extremely targeted actions, Forestieri eliminates the "rustic" traces of recent interventions and brings back the original spatial qualities.
"The intervention is concentrated along the central spine and consists of a structure of minimal surface area and materiality (so as not to physically and visually take away space from the main rooms) as well as minimal weight (so as not to burden the precarious existing structures). The detailing is dry and the transitions between materials also respond to technical and compositional choices", explains the architect.
The intervention is concentrated along the central spine and consists of a structure of minimal surface area and materiality.
All the new installations are housed on a lightened concrete platform, which marks the area of the new intervention. The new block features vertical surfaces with multilayer wood panels and large opaline polycarbonate revolving doors, which serve to disarticulate the apparent compactness of the volume and regulate the relationships between the rooms.
Multiply makes the few square metres of the two-room apartment – more and more expensive these days – efficient, avoiding the risk of a typically Milanese complacency and focusing on the substance.