The Catalan vault is a construction technique developed around the 15th century in Catalonia and Valencia, used mainly in civil construction. Brick vaults allow the reduction of load-bearing walls in buildings, as well as being resistant and durable. These ceilings were very popular until the 20th century, as they were very easy to make and made from readily available and inexpensive materials. The boveda catalana technique was gradually abandoned in the 20th century, replaced by other methods and materials such as steel and reinforced concrete. Many modern renovations have also hidden this element, both for aesthetic and practical reasons: false ceilings and plasterboard elements concealed various types of installations, as well as achieving greater formal purity.
A contemporary trend is instead to rediscover Catalan vaults, using them as recognisable and characterising elements for interior design projects and enhancing them by combining them with other materials, whether neutral like plaster or raw like wood and concrete.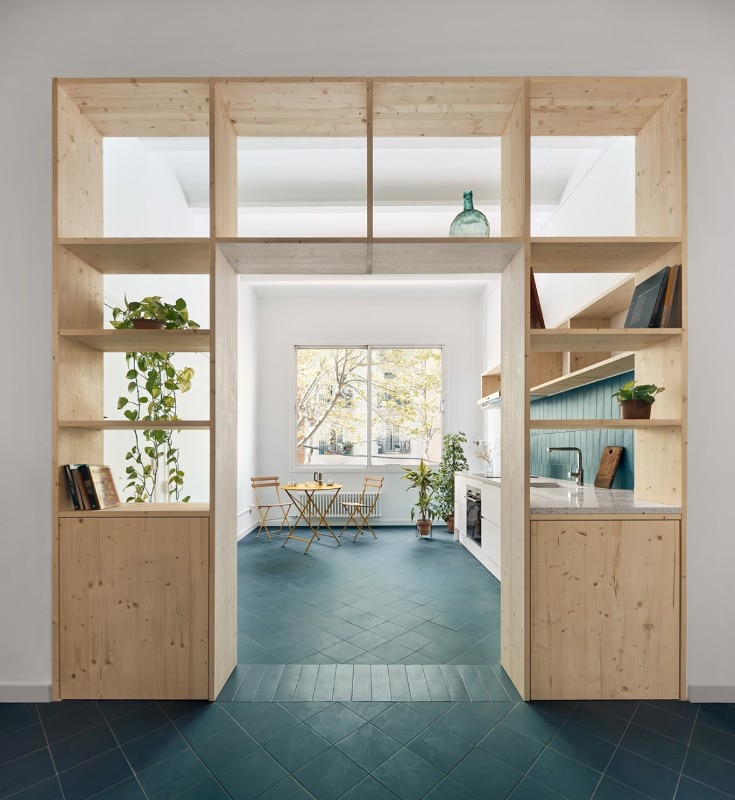 This is exactly the approach adopted by Adrià Guardiet and Sandra Torres, of studio 08014, who recently completed a flat in Barcelona converting an old industrial workshop. The main architectural gesture of the project is to strip the space of its various superfetations and expose the original structure.
The organisation of the areas is determined by two wooden elements which regulate the connection between the spaces and establish the difference between the pre-existing and the new, the permanent and the ephemeral. This furniture provides visual permeability between the rooms, access for natural light in the zones furthest from the facade, and partially solves storage needs. In the centre of the flat we find a multipurpose space of about 40 square metres, which corresponds to two structural modules and connects to the kitchen on one side and the bedroom with bathroom on the other. The floor is designed as a single stoneware carpet and changes texture at the thresholds to subtly define the distinction between the rooms.
Flexible, bare spaces with visible installations and material combinations: studio project 08014 perfectly represents the contemporary Catalan approach to interior design.
Project:

Apartment in Guinardó

Location:

Barcelona

Architect:

08014

Carpentry:

Fusteria Montanyà

Contractor:

Construcciones Delgado SCP

Area:

76 sqm

Completion:

2021