The Community building is located in Loker, a small village of 600 inhabitants. It is 1 out of 8 villages that form the Municipality of Heuvelland in West-Flanders.
Heuvelland is famous for its hilly landscape beauty, agricultural products and cycling tours. The project is the result of our winning entry for the Open Call competition, organised by the Flemish and Municipal government.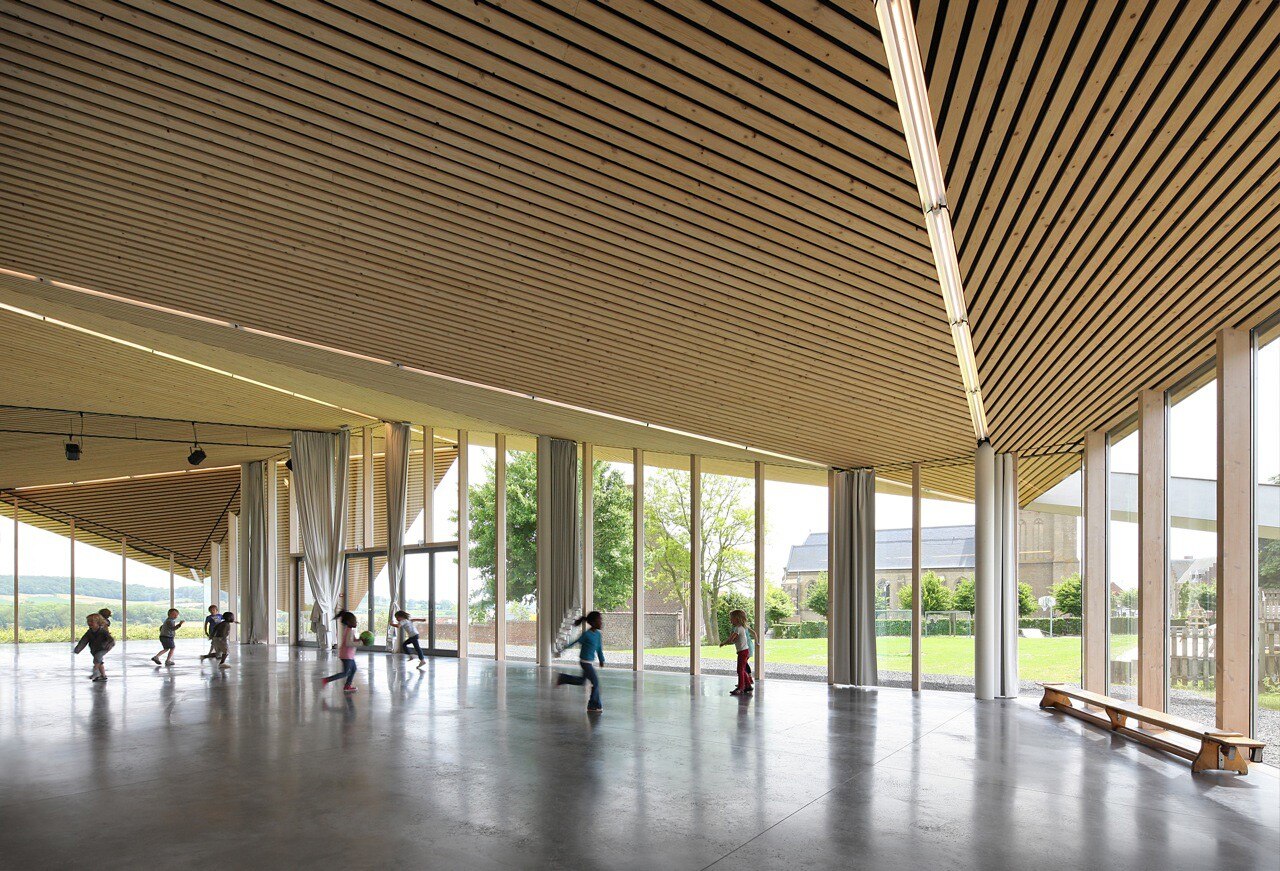 In order to improve the quality of the social services, the Municipality decided to re-distribute the existing facilities in a more decentralised and efficient way. Some villages enjoy a sports centre, others the community centre, others the theatre, giving an impulse to each village centre, upgrading the public heart of the towns. This 'swapping game' can also work as a tool to promote social cohesion and exchange between the villages. The different buildings become specialised centres which are adapted to their specific tasks. This qualitative impulse is also part of a plan to promote cultural tourism in this region and attract new inhabitants and visitors.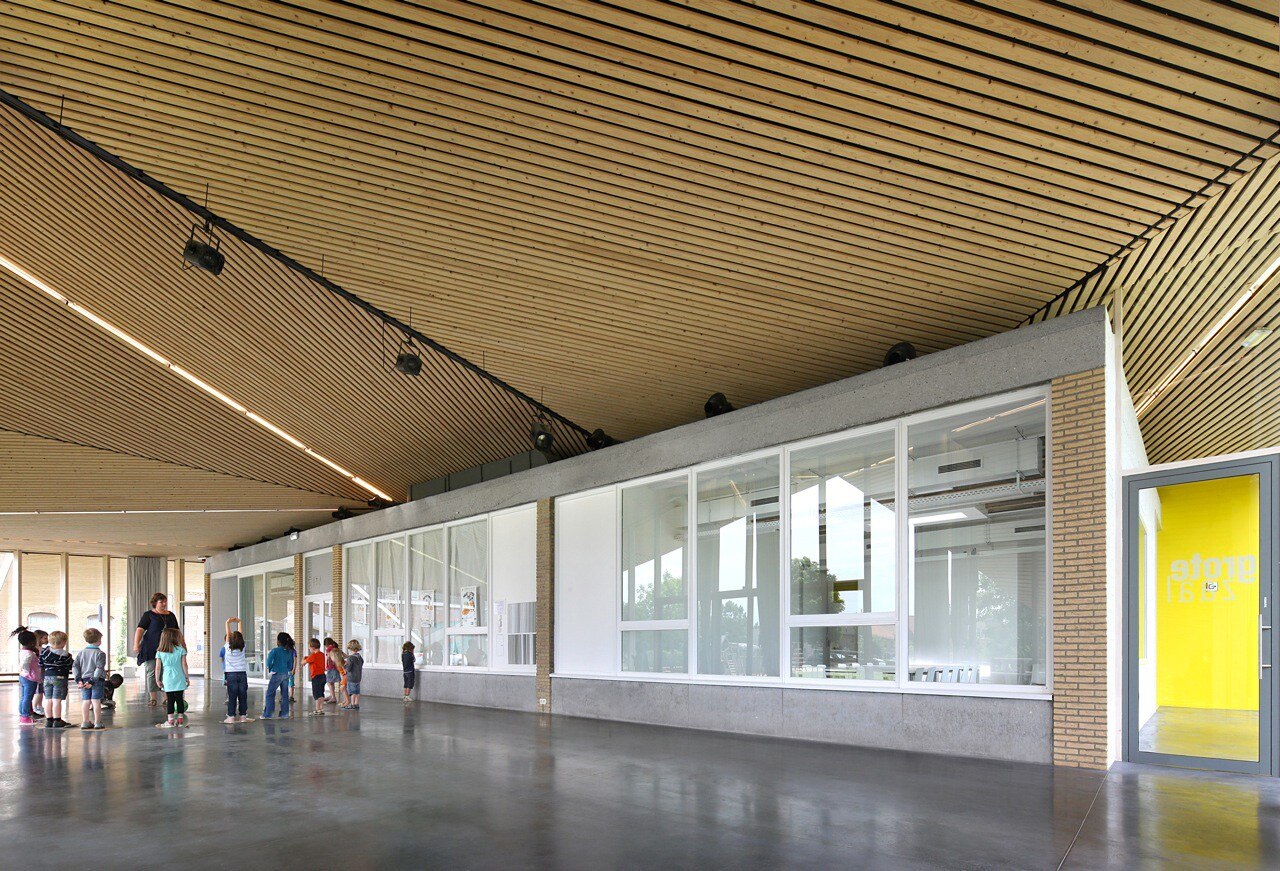 The building consists of a reused part of the existing structure of a primary school build in the 60's, covered by a large folding roof with a glazed façade. The changing shade, created by the various angles of the roof parts reminds of the surrounding patch-work landscape, while the corrugated roofing-material is similar to that used in neighbouring barns. The glazed façade provides a generous view over the surroundings, with an emphasis on the Sint-Petrus church, and the sloping landscape of the Kemmelberg. With reusing the existing 60's building, the architects create a layered reading of the history of that place.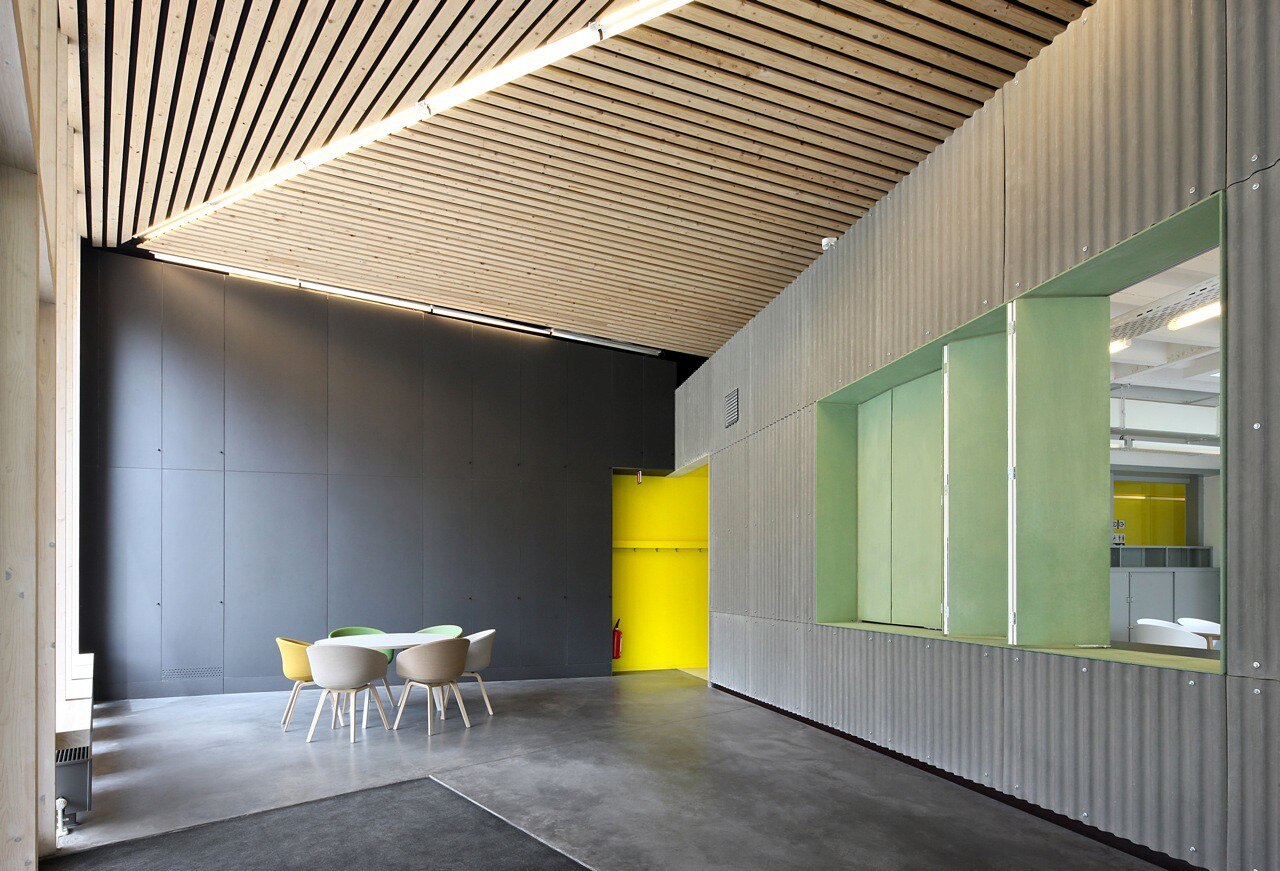 The reused school-building houses the more intimate spaces, like the canteen, storage, sanitary spaces and meeting rooms. The polyvalent, open space can be used for a large variety of activities, such as performances, gatherings, exhibitions, sports or parties. The smaller rooms can be opened up towards the polyvalent space, extending their potential, but the large space can also be divided by curtains so that several programs can coexist simultaneously.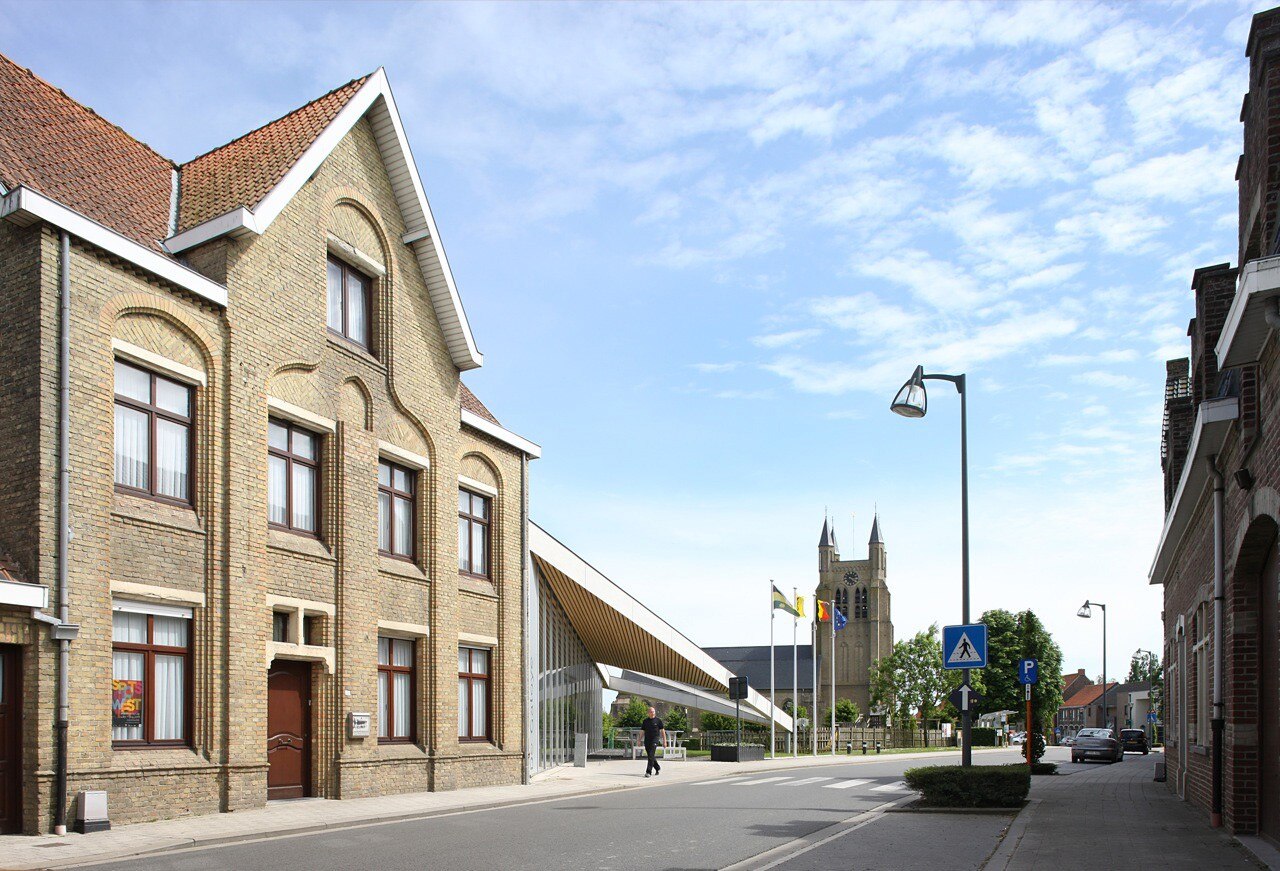 The competition prescribed the demolition of the whole existing building, but the idea to preserve the asbestos-free part of the structure, with the financial advantage of not having to build new specific spaces, allowing, nevertheless, for the polyvalent space to become larger then requested, worked out in favour of this project. The two main building components favour a good use of natural climate benefits and a more efficient energy managment. The cantilevering roof acts as passive sun shading, blocking direct sunlight from entering the building in the summer, but allowing sunlight to heat the building in the winter. Another effort was made with the selection of building materials: carbon neutral fiber cement panels were used for roofing, but also for interior cladding.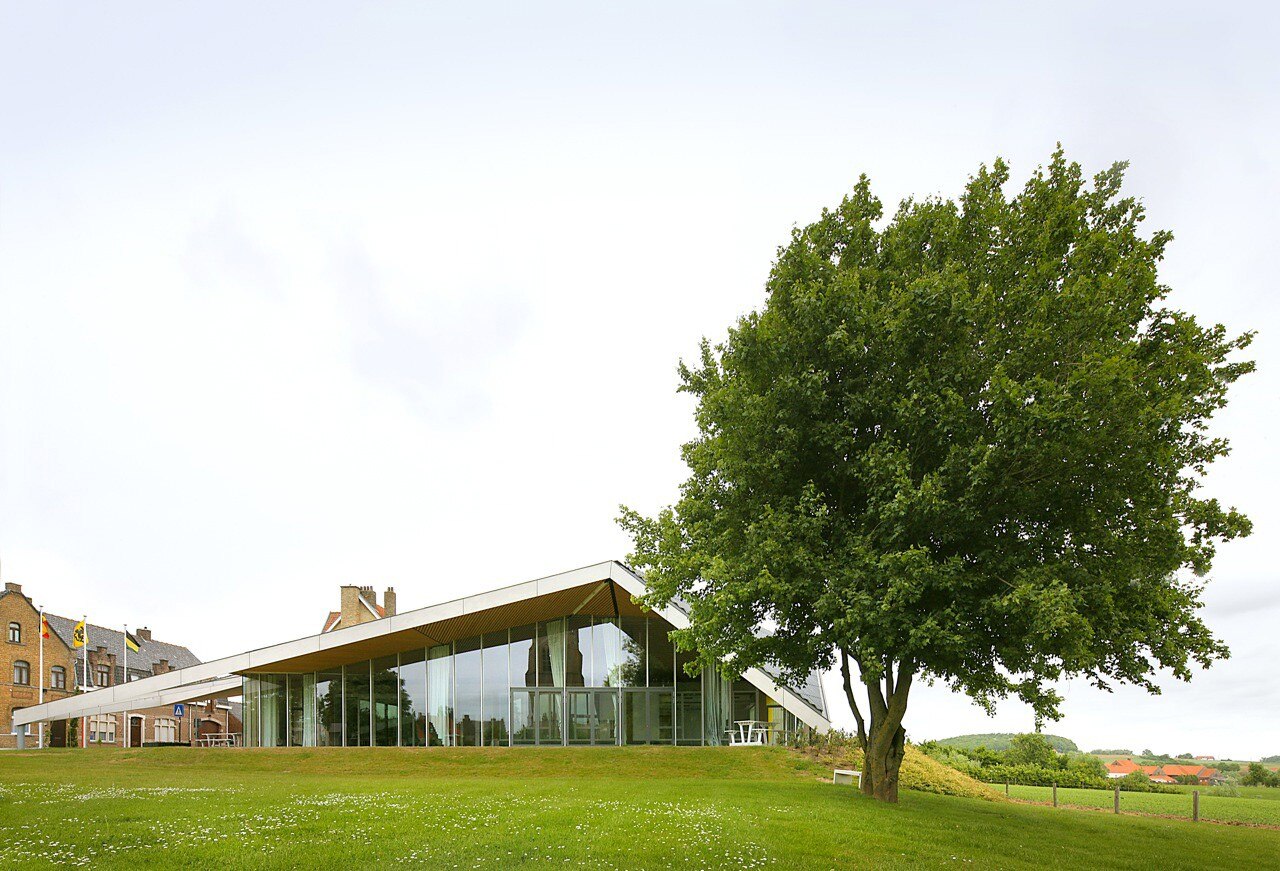 Community Home
Client: Municipallity of Heuvelland
Architect: Marc Koehler Architects
Collaborating Architects: Import Export Architecture
Project team: Marc Koehler, Rafael Aliende, Willem Bekers, Martijn de Geus, Job Mouwen, Oscar Rommens, Carlos Moreira, Miriam Tocino, Jakub Zoha and Tieme Zwartbol
Structures: LIME Studiebureau Viaene
Plants: Studiebureau Viaene
Type of construction: steel structure
Materials: in situ concrete floors, steel structure, wooden ceiling, aluminium glazing, fibercement plates (roof and interior walls)
Gross area: 550 m2
Completion: 2012